After a little revision of the website (thank you Pascale!), we're back with the latest news.
Get well soon!… soon!
As planned, the beginning of the year was all about Get Well Soon. We've had one workshop every two weeks, loads of discussions, plenty of work done from home… and we're close to the end!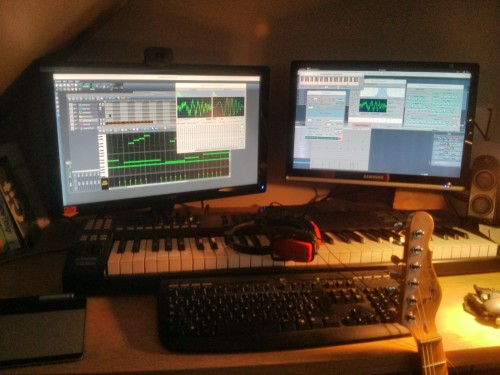 General status
Scenario: almost complete
Texts: almost complete
Modelisation: almost complete
Textures: ongoing
Animation: to do
Music: ongoing
Sounds : to integrate
Dialogs : almost complete
Voice acting : ongoing
Development / environment (doors, monster logic, etc.) : almost complete
Cutscenes implementation : ongoing
Other scenario tools' implementation (files, keys, closed doors, etc.) : to do
Some additional features
Awakening cutscene when you start a new game
The torch now can be off/on using 'F' key
Lamps have been placed in the corridor (on, off, sizzling)
Game icon added
Reset button added in the options menu
A few bugs fixed
A lot of new models, including:

Fidge
Indoor cycling
Conveyor belt
Espaliers
Convenient
Magazines

The monster is back!
To sum things up : a lot of work done but still a lot to do. Wish us luck!
Ludum dare
After FrenchCows took the big decision to disable the "pack" products to increase their "season" interest, our deadline was pushed back from three months to six. In consequence, we worked even more on Get Well Soon to make the game that much more interesting. The side effect being that we didn't have the chance to participate to any more Ludum dare. We hope to finish in time to register to the Ludum dare of August. To be confirmed…
However, what we can already tell you is, next time, we will participate as.. two separate teams, which means we'll develop two different games! That will give us a pleasant change and add some challenge… just because we can!
Category: Get Well Soon! Comment »