Sweet 2013
2013 was made of :
Ludum Dare competitions which boosted the team
the start of Get Well Soon!, our first game sold online
some abandoned projects (to make room for the new ones)
a few challenges accepted… and sometimes achieved
the discovery of new tools, which we loved!
But also :
11 posts (against 3 in 2012)
and, of course, our participation to the FrenchCows initiative!
Looking behind us,  lots of our objectives were reached, despite a great deal of time yet again stolen by our day's work. We can be proud of ourselves.
Let's roll up our sleeves for 2014!
After so many challenges met in 2013 (and some still ongoing), we'll have to work really hard for what follows!
The main objective, of course, is still to finish our first game actually sold online, Get Well Soon!.
This past few months, we started to have regular meetings and dedicated workshop-days, which we plan to maintain, as we realized working together motivates us a lot. Because let's be honest, it's not always easy to get back home from work to start working again on your own… even if we love it!
Once Get Well Soon! will be done, we'll start a marketing phase, which we are total newbies at. But we hope to learn a lot.
Then… we'll still have LOADS of projects waiting for us to work on!
Get Well Soon! the latest news
Instead of participating to this December's Ludum Dare, GSM Productions dedicated the weekend to Get Well Soon!. We had the help of Dimitri, 3D specialist and good friend of the team.
Friends making a video game ?!? After trying different types of industries, like advertising, movies or entertainment, I HAD to try that new challenge ! Eyes looking more and more like screens as the hours go by, orgies of junk food, lack of sleep and cheap humor … gosh, how I missed all these ! And what a pleasure to bring my contribution to Get Well Soon!
And we did achieve a lot through the weekend!
You'll note that the first level design is finished and the outside environment well advanced! The doors and windows are in place as well as the outdoors stairs. Textures have been done (not all definitive, but we're working on it). Lots of objects have been modeled (and there are still many more).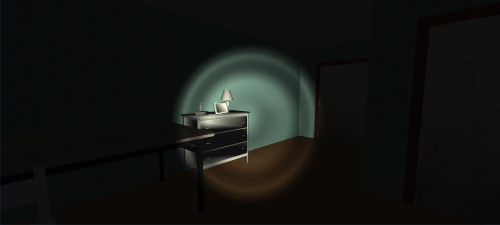 From a more practical point of view, the mouse's cursor is now hidden in-game and the main menu is completely over with, with the possibility to go back to it and then resume the game. The options now allow you to choose your keys and to determine the cursor's sensitivity.
Since we publish each week an updated version on FrenchCows (we will never encourage you enough to join this friendly community), the version's number is now visible in the main menu.
And, to French-speakers' delight, you can now choose your language!
Finally, talking about gameplay, the character cannot jump anymore and is carrying a torch. Moreover, the turn-based movement is back, a bit modified to match its application to the scenario… and monsters can open the doors.
We hope to present all of this to you soon! In the meantime, for the curious who want to follow the game's evolution, we're waiting for you on FrenchCows! 😉
Category: General, Get Well Soon!, Ludum Dare Comment »